DRIVING CHANGE IN COMPLEX SYSTEMS THROUGH EXPERIMENTATION
A FRAMEWORK FOR REAL CHANGE
This method start with one simple question: What do we need to do differently to be successful? From there, we set up small experiments to test the answers to that question. The experiments provide freedom to do what it takes to reach the goals, within clearly defined rules and boundaries. The outcome is two-fold, achieving quick wins in strategic growth areas in the market, and a wealth of learning that informs the rest of the organization of how to respond to change in the market. The processes engages talent at all levels to take ownership of the business impact, overcome obstacles and incorporate learnings.
THE GROWTH EXPLORATION JOURNEY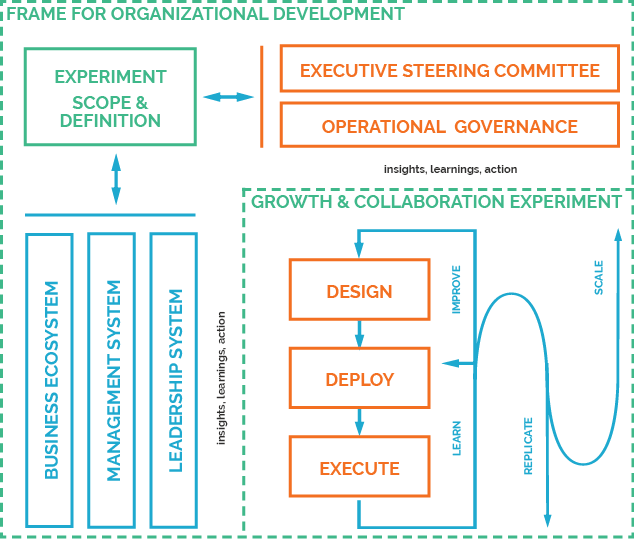 WITH A SIMPLE PROCESS, PRAGMATIC TOOLS AND HANDS ON ENABLEMENT
We set up people for success in these experiments. We facilitate a process that is simple yet detailed, making it easy to engage in the project at any level. Participants are provided with intuitive management tools for every step in the process, and we adapt our level of engagement to the ability of the participants. Beyond facilitating the process, we enable the people, and we go as deep as needed and wanted by the client to make it a success. Throughout the project, we transfer the knowledge of how to manage the entire growth exploration journey, so that the client can integrate the approach as a continuous way of operating and managing ongoing change and growth.

We propose an immersive discovery workshop to get started. The outcome of this workshop is a set of insights and new perspectives on how to work in a networked, dynamic and experiment driven way. It also provides self awareness for the team on what is working and what is not in the current set up, and how to address change. The third key deliverables is a draft mapping of potential micro-game changers. These three key deliverables can be used as a starting point for the Growth Exploration Journey, or as input to drive change within the clients regular managmeent and operational activities.